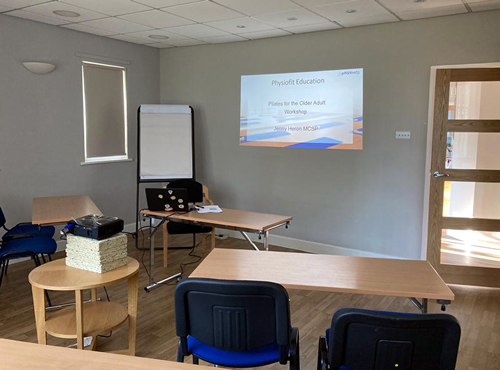 Physiofit Education officially started 2014. However, the courses developed as an extension of the programme that Jenny Heron was already delivering to her team of Pilates instructors. Events are usually held at our venue in Horsforth, North Leeds, however we also offer in-house training. All our tutors are qualified physiotherapists and Pilates instructors and have a wealth of practical experience as well as up to date, evidence based knowledge. We are looking to expand our range of courses and workshops so stay in touch for future developments.
Tutor and Founder
Jenny Heron - MSCP BSc (Hons) Physiotherapy, PGCE, Post Grad Cert (Women's Health Physio)
Jenny has been delivering Pilates teacher training for over 20 years. She qualified as a physiotherapist in 1996 and quickly developed an interest in rehabilitation exercise. She trained in Pilates in 2000 and has taught 1000's of classes since! Jenny has a passion for education and completed an adult education qualification in 2004. She is skilled at making the theory engaging and understandable, and her practical sessions provide exercise ideas that will have instructors itching to get back to their classes to try them out.
Tutor
Suzie Crellin - MCSP BSc (Hons Physiotherapy)
Qualified as a physio since 2006, Suzie also has more than a decade of experience of Pilates teaching. She developed the Dizziness and Balance clinic at Physiofit in 2018 after completing training in Vestibular Rehabilitation, a treatment for vertigo, dizziness, BPPV and balance issues. This knowledge lead to her incorporating many new and innovative balance challenges into her Pilates classes. She developed a workshop to share these ideas with colleagues and has been presenting since 2019.
Tutor
Jess Noble MCSP BSc (Hons Physiotherapy)
Jess has worked as a specialist neurological physiotherapist for 12 years after qualifying in 2006. She discovered Pilates on a personal level but quickly saw the advantages it could bring for her clients. After training in 2012 she began teaching specialist neuro Pilates classes, to clients with a range of issues including strokes, MS, Parkinsons, head injury and cerebral palsy. She worked alongside Jenny Heron to develop a one day workshop in Pilates for fellow neuro physiotherapists.