Ante Natal Pilates Classes
During pregnancy and childbirth there are many changes to the body of the mother. Pilates is an ideal form of exercise to enable the body to cope with these changes. These classes focus on strengthening the abdominal and pelvic floor muscles, maintaining the flexibility of the spine and limiting alterations in posture as the size of the bump increases. Pilates breathing techniques used during these classes can be useful in labour.
Pilates is recommended by physiotherapists for those suffering with pelvic girdle pain (previously known as Symphysis Pubis Dysfunction or SPD). These classes are a perfect environment for rehabilitation as they are taught by physiotherapists experienced in treating this condition.
The ante-natal classes are suitable for women at any stage of pregnancy up to the due date.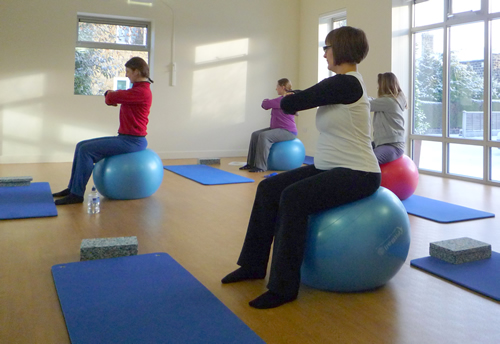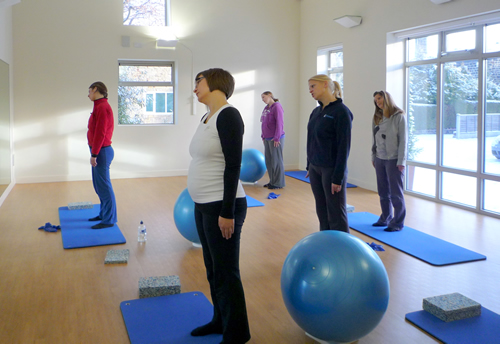 Post Natal Pilates Classes
Post natally we accept women back after their 6 week post natal check. As the classes are kept small the instructor can tailor the exercises to suit each individual whatever stage they are at.
What people have said about our ante and post natal Pilates classes...
I would like to say a huge thank you to all the team at Physio Fit. You have been such an important part of my pre and post natal fitness journey and have helped me so much - even from afar! - Remote class member
I just wanted to drop you a quick note to say I attended my final antenatal Pilates class last night having been coming all the way through since summer. I have really enjoyed it and Katie's class has been great - as well as keeping us all physically challenged (just the right amount!) she has also given some invaluable advice about labour and birth so it has been really useful coming and I will definitely be recommending it to all of my friends. I really look forward to returning to the post natal class in a couple of months!
I joined an ante-natal Pilates class and I am so glad I did - I would recommend it to any pregnant ladies! I went from about 16 weeks right up to 40 weeks and it made a huge difference to my mobility, I always felt great after a class! Being run by a physio specialising in antenatal who is also a mum as well as small class sizes for individual attention (5 people in these classes) made me feel totally confident in the exercises.
After I'd had my baby, I went back to post-natal Pilates with Jenny, with the added bonus that I could take my baby along! Jenny was great, she checked my stomach separation at the first class so that the exercises could be individually tailored, and was also great with the babies. - Cat J - February 2018