Women's Health Physiotherapy includes treatment for conditions that exclusively affect women. This includes obstetric (ante/post natal) and gynaecological problems, and help following breast surgery. Problems we can help with include:
We also offer our New Mum MOT service, a post natal health check for new mums to help optimise recovery following childbirth.
Find out about our New Mum MOT >>
Previously known as symphysis pubis dysfunction (SPD), PGP is a descriptive term for symptoms of pain in the joints of the pelvis. These are the pubic symphysis and sacro-iliac joints.
Pain in these joints is very common during pregnancy (affecting up to 70% of women in some studies). Symptoms can range from mild discomfort on certain movements to severe pain with all activities. Those with very severe symptoms may need to use crutches or a wheelchair for a period of time. Only around 20% of women will suffer severe symptoms and many resolve after birth with only around 7% of women suffering post natally.
Physiofit have several physiotherapists who specialise in the treatment of PGP both with physiotherapy and Pilates based rehabilitation exercise. We work in association with the founders of The Pelvic Partnership, a charity offering advice and support for sufferers of PGP. All the techniques used are gentle and non-invasive and specifically designed for the treatment of pregnant and post natal women. We offer advice on the use of support belts and stabilising exercises and can discuss the best options for labour. Treatment can be started immediately after childbirth if the pain persists or occurs at this time.
Also known as "separation" of the abdominal muscles this is the stretching and thinning of the soft tissue in the centre of the abdomen which divides the right and left half of the abdominal muscles. It occurs in the 3rd trimester and is considered a normal effect of pregnancy as it occurs in 66% of women. It should return to normal by 6 weeks post natally. In some cases it does not return to normal within this time. This may be due to the diastasis being very large during pregnancy (due to a large baby, multiple pregnancy or several pregnancies in succession), or by incorrect use of the abdominal muscles post natally.
Physiofit have several physiotherapists who specialise in the treatment of Diastasis Recti and who are trained to assess the degree of separation and teach the correct exercises to help resolve it. We will monitor your progress and can give advice about when you are able to return to exercise safely.
Both men and women can experience bladder problems and other symptoms of pelvic floor weakness related to urological or gynaecological conditions or operations.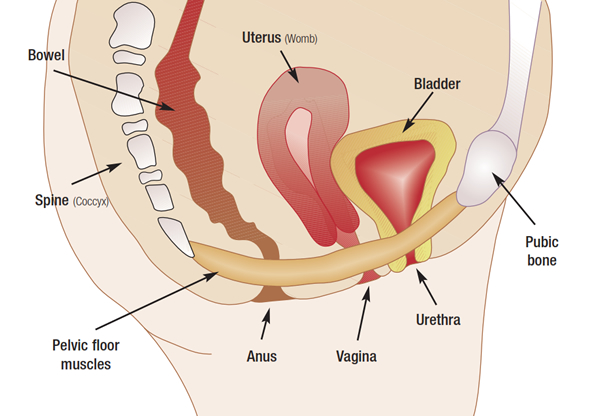 © Sherborne Gibbs Ltd 2013. First published in Primary Care Women's Health Journal. For more information visit www.womenshealthj.com.
Pelvic floor physiotherapy has been shown to be beneficial for a range of conditions such as:
stress or urgency urinary incontinence (urine loss)
pelvic organ prolapse (a feeling of heaviness, pressure or bulging in the vagina)
anal incontinence (loss of stool or wind)
symptoms of lax pelvic floor muscles (e.g. sexual dysfunction)
vulvodynia (sensation of vulval burning and soreness, in the absence of any obvious skin condition or infection)
Women can be particularly vulnerable to urinary incontinence and other symptoms related to their pelvic floor muscles at different times in their life e.g.:
pregnancy
post-natally
menopause
older age
Physiofit physiotherapist, Jacqui Millington specialises in the treatment of pelvic floor problems. Assessment involves questions about medical history, background to the problem, current symptoms, and normally a physical examination (with your consent). Goals and appropriate treatment would be discussed and agreed, and might include specific and holistic advice, appropriate exercise, and additional therapies such as biofeedback and nerve stimulation.
The menopause is technically the point at which a woman's menstruation stops, however symptoms can start in the years before the menopause (peri-menopause). The average age of the menopause is 51 but some women start in their 40s, or even earlier. There are many varied symptoms, and we are not qualified to advise on the medical treatments available however we can offer advice on the following:
Bladder and bowel symptoms including incontinence
Vaginal symptoms, including prolapse
Joint and muscle pains
Osteopenia and osteoporosis (decrease in bone density)
Exercise to improve mood and help with hot flushes
Physiofit physiotherapist Jacqui Millington specialises in treatment for the pelvic floor which can help with bladder, bowel and vaginal symptoms. Jenny Heron specialises in the use of exercise in the treatment of the other symptoms mentioned. Please call if you would like to make an appointment and Jacqui or Jenny will speak to you to discuss which of them would be best suited to help with your problems.
Many women with breast cancer have some kind of surgery, even though other kinds of treatment are also done. You might have had one or more of these procedures:
Breast biopsy
Lymph node biopsy or removal
Breast conservation surgery (lumpectomy)
Mastectomy without reconstruction
Mastectomy with reconstruction (with your own muscles or an implant)
Any of these surgeries can cause pain and stiffness which in turn can affect how well you can move your shoulder and arm, or even take a deep breath, or do your daily activities like dressing, bathing, and combing your hair.
Exercises can help restore movement. Exercises help to decrease any side effects of your surgery and help you get back to your usual activities. If you have radiotherapy after surgery, or even radiotherapy without surgery, exercises are even more important to help keep your arm and shoulder flexible for the treatment itself. NICE guidelines based on clinical trials suggest that physiotherapy or exercise interventions can improve arm and shoulder function in patients who have received surgery for breast cancer.
Posture can be affected by breast surgery often resulting in back pain (usually mid back but pain can present itself in the neck and lower back too). Posture and stability exercises alongside manual therapy can help alleviate this pain and prevent back pain in the future. Physiotherapy treatment and exercises have many advantages;
Moving muscle moves lymph fluids. This helps reduce the risk of lymphoedema, one of the significant risks of breast cancer surgery.
Simple exercises that strengthen the abdominal muscles and back help support good posture, which translates to more stability and freedom in everyday movement.
Specific exercise can help to regain proprioception (brain awareness of our body) which is reduced after surgery.
Light stretches done with good alignment help to regain full range of motion through the chest and arm.
Physiofit physiotherapist Suzie Crellin is a specialist in breast surgery rehabilitation having worked alongside consultants for many years.
---
I'd like to say a HUGE thank you to Physiofit for doing the ante-natal classes - what I learned gave me the confidence and stamina to get through an active labour following induction on the drip with a cocktail of painkillers but no epidural or C-section. I'm already using what I know to think about how to keep myself fit while doing mum stuff - looking forward to post-natal classes in a few weeks! N.U. - Feb 2020
Physio Consultations
Initial appointment
(45 min) £55.00
Follow up appointment
(up to 30 min) £40.00
Specialist Physiotherapy
Vestibular Rehabilitation
Respiratory Physiotherapy
Persistent Pain Management
Pelvic Floor Physio
Acupuncture
New Mum MOT
New Mum Return to Sport MOT
Women's Health
Children's Physiotherapy
Initial appointment
(45 min) £65.00
Follow up appointment
(up to 30 min) £47.00
Initial appointment - (45min)
Includes assessment & 25-30min massage
£55.00
Follow up appointment - (30min)
Includes 25min massage
£40.00
80 - 90 minutes - £130.00
Missed appointments and appointments cancelled with less than 24 hours notice may be charged.
Physiofit Chartered Physiotherapists offer professional assessment, treatment and rehabilitation of a range of injuries and conditions. We have links with local GP surgeries and liaise with other consultants and specialists to provide the best pathway of care for each individual.