Jacqui Millington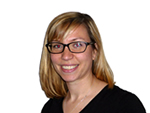 Jacqui offers
Jacqui specialises in
Continence
Pelvic Floor
Women's Health
Specialist Pelvic Floor and Continence Physiotherapist
Pilates Instructor
Jacqui graduated with a BSc (Hons) in Physiotherapy from the University of Bradford in 2008. Once qualified she worked voluntary in Thailand for the charity CCD working with children with disabilities for 6 months. From 2009 to 2015 Jacqui worked as a rotational physiotherapist at Leeds Teaching Hospitals covering a variety of inpatient and outpatient rotations. In 2016 Jacqui specialised in Pelvic Health and began a new role at Bradford teaching hospitals as a senior physiotherapist and more recently was promoted to team lead. Following the birth of her first son in 2016 and having experienced the classes first hand, she joined the physiofit team taking ante and post-natal Pilates classes.
Jacqui is a POGP member and has completed a variety of post graduate POGP courses to advance her practice, including female urinary dysfunction, advanced pelvic floor, lower bowel dysfunction and pregnancy related musculoskeletal spinal and pelvis courses.
Jacqui enjoys running in her spare time, spending time with family and friends and travelling the world.