Jenny Heron
BSc (Hons) MCSP PGCert PGCE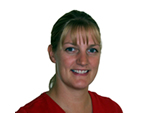 Jenny offers
Physiotherapy
New Mum MOT
Pilates
One-to-one Pilates
Jenny specialises in
Sports Injuries
Pelvic Girdle Pain
Women's Health
Senior Physiotherapist and Pilates Instructor
Director of Physiofit Leeds
Jenny Heron is the Director of Physiofit Leeds which she founded in 2000. Qualified for over 17 years, Jenny has wide experience as a physiotherapist including working full time with professional rugby teams, working with injured police officers, and her time in private practice treating musculoskeletal conditions.
With her background in sports physiotherapy and her personal interest in running and cycling, Jenny specialises in the treatment of sports injuries. She combines hands on physiotherapy techniques with Pilates based core stability work and education to enable the patient to take control of their condition. Jenny offers biomechanical assessments of walking, running and cycling to provide detailed video analysis of movement and identify any faults that might contribute to injury. This approach also works well for those with more chronic conditions including neck, back and pelvic pain as well as work related injuries, where analysis of work posture and movement can improve outcomes.
Jenny attained a Post Graduate Certificate in Physiotherapy for Women's Health at Bradford University in 2011, and alongside her training with The Pelvic Partnership in 2005, this enabled her to offer Women's Health physiotherapy. This includes treatment for pelvic girdle pain (PGP, also known as SPD), diastasis rectus and for pelvic floor problems in women such as stress incontinence, and pelvic organ prolapse.
Jenny also leads the team of Pilates Instructors at Physiofit Leeds, team as well as teaching classes herself. She runs her own workshops and Pilates training courses and also works for Modern Pilates as a tutor and course developer.
In any spare time she has Jenny enjoys walking, running, mountain biking and road cycling.
What people have said about Jenny...
I just wanted to say a massive thank you for your help, as you have given me the confidence to get moving again when I felt like I couldn't! I would definitely highly recommend Physiofit!
Thank you very much for all your help over the last few months, and for getting me back out running. The key to running again is a fantastic physio – and thankfully I found one! S.B.