Suzie Crellin
BSc (Hons) MCSP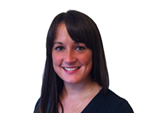 Suzie offers
Physiotherapy
New Mum MOT
Sports massage
Acupuncture
Vestibular rehabilitation therapy
Suzie specialises in
Sports injuries
Lower back pain
Respiratory physiotherapy
Pelvic Girdle Pain
Breast cancer surgery rehabilitation
Vestibular rehabilitation therapy
Senior Physiotherapist and Pilates Instructor
Suzie gained her BSc (Hons) in Physiotherapy from Northumbria University in 2006 and for worked for 7 years in a private hospital as a musculoskeletal and respiratory specialist physiotherapist working alongside consultants in both outpatients and on wards. She relocated to Leeds in 2013 and joined the Physiofit team as a physiotherapist and Pilates instructor. Suzie has participated in regular in-service training and has also completed several post graduate courses. She offers acupuncture as part of her physiotherapy treatment and has completed the AACP foundation course.
Suzie is also trained to offer treatment in these specialist areas:
Respiratory Physiotherapy offering treatment for various pathologies including bronchiectasis, asthma and hyperventilation syndrome (HVS).
Breast Surgery Rehabilitation offering treatment for women post breast cancer surgery, using manual therapy and exercise prescription to improve arm and shoulder function.
Dizziness, vertigo and balance problems using Vestibular Rehabilitation for these conditions including BPPV, labrythitis and vestibular neuritis.
What people have said about Suzie...
I chose Suzie Crellin at Physiofit after researching on line and reading about the Dizziness and Balance Clinic. I'd been struggling for several months with inner ear problems that caused difficulties with my balance, daily headaches, tiredness etc. When I read the information I immediately thought "that's me!"

Suzie was very thorough at my initial appointment, explained what I needed to do to improve my symptoms, and why. I had 3 sessions in total and graded exercises to do at home. When I was discharged I felt reassured that I could make a full recovery, plus Suzie stressed that I could ring her or email at any time if needed.

I would encourage anybody who is suffering similar problems to contact Suzie; she is professional, supportive and a light at the end of the tunnel. Thank you. - Amanda P. Oct 2021
Treatment was received from Suzie Crellin for Benign Paroxysmal Positional Vertigo after being diagnosed with meniers disease from my GP and given various meds that did not alleviate the symptoms. I had spent two weeks housebound and unable to do any of my normal activities. I was told by a friend about your service and am now relieved of symptoms, have been given lots of useful information and exercises to do at home, am so delighted with the results. Suzie is amazing and so professional, non patronising and informative: would highly recommend this treatment for anyone who is suffering from BPPV. Thank you M. Nash. August 2020
I was bed-bound for 3 months due to severe dizziness and sickness. Due to COVID 19 I couldn't see a specialist or GP face to face. I felt very alone and lost all hope of getting better. I did some research and found Suzie. Suzie helped diagnose my BPPV and gave me courage to fight this very persistent bout of BPPV. I don't think I can find words that could best describe my appreciation towards Suzie. She is an amazing person and if it wasn't for her I don't think I would have made a full recovery.

I would recommend her to anyone suffering from any form of dizzness or any balance related issues. Suzie is very knowledgeable and skilled. She helped me to carry out the Epley mManoeuvre at home and her motivational words gave me courage to be brave enough to carry out the manoeuvre at home. The credit for my full recovery goes to Suzie for giving me a first class service. S.M.
Following a diagnosis of BPPV, my GP gave me some vestibular rehab exercises to do at home (Brandt-Daroff). I was very happy to have a diagnosis that explained the persistent dizziness but I wasn't really convinced that the exercises were doing any good. All I seemed to be doing was throwing my head about, which just made the dizziness worse. So I did a little research and discovered a very specific exercise that is best performed by a specially trained physiotherapist. Some reports even suggested that if performed correctly, this manoeuvre could fix the problem very quickly. I was a bit sceptical about this, but decided to give it a go and set about trying to find a physio that could help. My local therapist didn't offer the treatment in question but then I found Physiofit who confirmed that they had physios who were trained to treat BPPV.

I saw Suzie Crellin, who did a thorough assessment before performing the Epley manoeuvre - and it was like magic! The dizziness stopped immediately and hasn't returned. It was literally like a miracle cure, albeit based on sound scientific principles. I would definitely encourage anyone suffering from BPPV to go and see Suzie and it's such a shame my the GP didn't seem to be aware of this instant cure. - Andrea R. Jan 2019
I have been coming to see Suzie Crellin for chest physiotherapy since about March this year. I have bronchiestasis and had had a particularly difficult winter with multiple chest infections. Suzie has been helping me with breathing exercises to clear the mucous. This has been excellent and her knowledge of my lung condition and other lung conditions is huge. It is great to be able to discuss my problems with her ,as with doctors and specialists they don't normally have the time. When necessary she also performs percussion. I would thoroughly recommend this young woman to anyone with a chest complaint. - Sue H. Nov 2018
I started physiotherapy with Suzie Crellin after operations following breast cancer left me with no real upper body strength, and no real idea of what I could and couldn't do, along with a risk of lymphedema in my left arm. Whilst the treatment I had on the NHS was brilliant, advice for how to get back to normal wasn't abundant and there was a real cautionary attitude because of the lymphedema. Suzie has been AMAZING throughout and has got me back to a point where I can pretty much do everything I did before I was ill. She explained to me in detail why I had to be careful with certain exercises but always told me I could do it, I just needed to build up to it. She gave me the positivity that I needed and I can't explain how much her support and help has meant to me, she's an utter star and fantastic at what she does, I'll be forever grateful for her help. Thank you Suzie. - Alex B. Nov 2017
I would just like to thank Suzie Crellin for her amazing class. After my operation my consultant frightened me to death with her do's & don'ts to the point that I did nothing. My confidence has grown during the class and I feel so much better. I am looking forward now to my new class. - Sue D. Feb 2016