Stella Wagner
BSc MCSP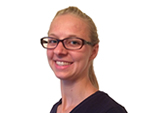 Stella offers
Physiotherapy
New Mum MOT
Manual Therapy
Kinesiotaping
Sports massage
Biomechanical assessments
Stella specialises in
Sports injuries
Oedema Treatment
Sports Injury Rehabilitation
Pelvic Girdle Pain
Physiotherapist and Pilates Instructor
Stella graduated as a physiotherapist from Hochschule Fresenius, Germany in 2011. She completed advanced training in manual therapy and oedema treatment in Germany and worked as a physiotherapist in Germany until 2014.
Stella specialises in the treatment of sports injuries and rehabilitation and on moving to England completed an MSc in Sports Therapy at Leeds Beckett University. This program expanded her knowledge and she offers evidence based and holistic approaches to assessment and treatment of musculoskeletal disorders. She has since undertaken further training in running assessment.
Stella completed training with Polestar Pilates in 2011 and the Physiofit Education ante/post natal Pilates training course in 2016.
Stella joined the Physiofit Team in 2015 offering physiotherapy treatment, including biomechanical running assessment, as well as Pilates teaching.
What people have said about Stella...
I just wanted to say how fabulous I thought Stella Stein was. She has completely transformed my non-bending or fully stretching leg in just 4 weeks and has been brilliant both in her knowledge of her subject area but also in adapting exercises to fit to my lifestyle. - L.H. April 2016
Thank you Stella for making my daily existence so much more comfortable and enjoyable. You are truly a star! - C.P. January 2016
I want to let you know that I am really enjoying this class. Stella is great and I feel like I am making progress and love the way that Stella leads the class and plans the class to ensure progress and challenge each week. - Sue W. October 2015