<< Back to Biomechanical Assessments
What is it?
Using a turbo trainer we assess your position on your bike not just according to your height or leg length but taking account of your flexibility, posture and any previous injuries. Advice will be given regarding saddle height and fore/aft position, handlebar height and reach, crank length and cleat position.
Using observation and slow motion video footage of you pedalling we look at your pedalling dynamics including foot, ankle and knee position, pelvic stability, spinal posture, shoulder stability, upper limb posture and head position. We will observe you both in and out of the saddle.
We will then tailor a programme to address any problems identified. This may be physiotherapy treatment and rehabilitation, a programme of strengthening or stretching exercises and/or specific pedalling drills.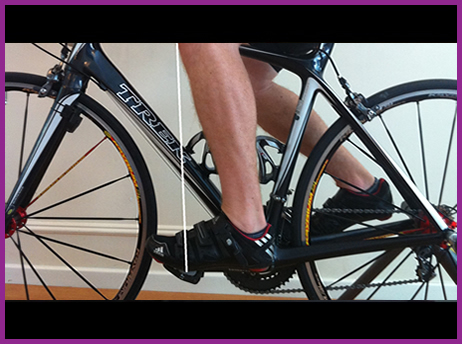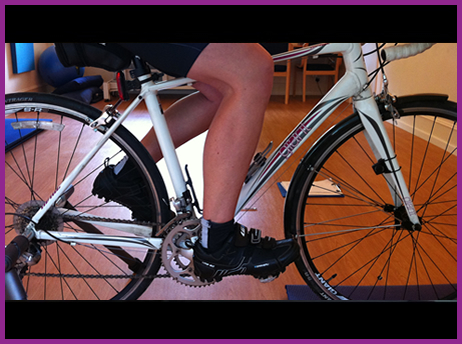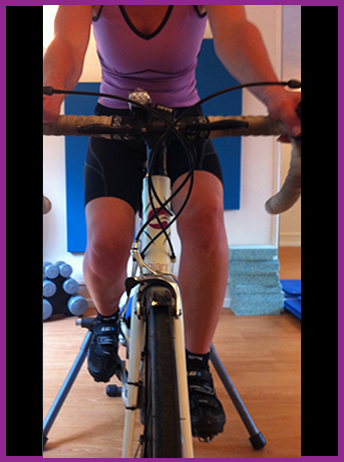 Cyclists of all abilities can benefit especially:
Those wanting to improve their cycling style
Those wanting to achieve distance or time goals for their cycling
Those training for a specific event or challenge
Those who struggle with pain or injury through cycling
Why should I have an assessment?
To help prevent injury, especially recurrent problems
To improve performance and help you achieve your cycling goals
To optimise cycling efficiency and allow the body to perform economically
To rehabilitate after an injury as injury can affect gait
Who will do the assessment?
Physiofit physiotherapist Jenny has worked for over 20 years as a sports physiotherapist with a specialist interest in cycling injuries. She is a keen road cyclist and mountain biker and has completed local sportives including the Etape Du Dales and the White Rose Classic, and competed in several 24 hour mountain bike events. Jenny has also worked alongside ex Australian international mountain biker Kate Potter and her husband Ian on coaching weeks run by their mountain biking company AQR.
How much will it cost?
The assessment will cost £120 and last 80 – 90 minutes.
Physio Consultations
Initial remote appointment
(45-60 min) £48.00
Follow up remote appointment
(up to 30 min) £35.00

Initial face to face appointment
(45-60 min) £52.00
Follow up face to face appointment
(up to 30 min) £38.00
Specialist Physiotherapy
Vestibular Rehabilitation
Respiratory Physiotherapy
Persistent Pain Management
Pelvic Floor Physio
Acupuncture
New Mum MOT
New Mum Return to Sport MOT
Women's Health
Children's Physiotherapy
Initial appointment
(45-60 min) £60.00
Follow up appointment
(up to 30 min) £44.00
Initial appointment - (45min)
Includes assessment & 25-30min massage
£52.00
Follow up appointment - (30min)
Includes 25min massage
£38.00
80 - 90 minutes - £120.00
Missed appointments and appointments cancelled with less than 24 hours notice may be charged.
Physiofit Chartered Physiotherapists offer professional assessment, treatment and rehabilitation of a range of injuries and conditions. We have links with local GP surgeries and liaise with other consultants and specialists to provide the best pathway of care for each individual.