Stacey Lalande
BSc (Hons) MCSP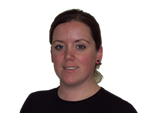 Stacey offers
Vestibular rehabilitation therapy
Stacey specialises in
Vestibular rehabilitation
Specialist Vestibular Rehabilitation Physiotherapist
Stacey graduated as a physiotherapist from Leeds Metropolitan University in 2005 and completed a MSc in Rehabilitation studies (Musculoskeletal) at Bradford University in 2015.
Stacey currently works in the NHS as an advanced physiotherapy practitioner in orthopaedics. She trained in vestibular rehabilitation in 2010. This treatment for inner ear deficits can help with symptoms such as dizziness, vertigo and balance problems.
Stacey has been with the Physiofit team since 2009 and now runs our specialist vestibular rehabilitation service.