Emily Thornham
BSc MCSP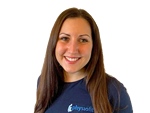 Emily offers
Physiotherapy
Sports Massage
New Mum MOT
Pilates
Emily specialises in
Women's Health
- Pelvic Girdle Pain (PGP/SPD)
- Diastatus Rectus Abdominus
Reformer Pilates
Senior Physiotherapist and Reformer Pilates Coordinator
Emily qualified as a physiotherapist (MSc) in January 2014 at Leeds Metropolitan University and prior to this completed a BSc honours in Sports Science. She worked for 3 years within the NHS as a junior rotational physiotherapist. She then gained a senior role in musculoskeletal physiotherapy at Leeds Teaching Hospitals NHS Trust, after which she completed a year working in private practice. Emily joined the Physiofit team on a part time basis in 2015 and became a full time senior physiotherapist here in 2019.
She has practised Pilates since 2011 for her own back problems and has completed her Level 1 and 2 qualifications in APPI Pilates in 2014 and 2015 and Ante and Post natal Pilates at Physiofit in 2016. She completed her reformer training in 2018/19 and is leading the development of a reformer service for Physiofit.
What people have said about Emily...
Dear Emily, I want to express my gratitude to you for the excellent work you did in restoring my broken wrist to normal function after the cast was removed. I can't speak highly enough of your practical experience and your reassuring manner to help calm my concerns. Once again, many thanks for making what could have been a traumatic experience much less upsetting. J.L. - November 2019
Just a few words to say, a massive thank you to Emily - a great physio who is working wonders on my back. A very lovely person too getting me in at very short notice to try get me moving again, very much appreciated. Cheers Emily S.W. - November 2019