Caitlin Acton
BSc (Hons) MCSP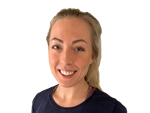 Caitlin offers
Physiotherapy
Pilates
Sports Massage
New Mum MOT
Physiotherapist and Pilates Instructor
Caitlin graduated from The University of Bradford with a first class BSc (Hons) in Physiotherapy and worked in the NHS for 3 years in MSK outpatients. Prior to this she attained a BSc (Hons) in Sports Rehabilitation in 2013, and worked for local football and rugby teams. She has now specialised as a Hand Therapist at Airedale General Hospital. Caitlin has completed a Post Grad Cert in Rehabilitation studies and is working to complete an MSc.
Caitlin qualified with APPI Pilates in March 2017 and the Ante and Post Natal Pilates at Physiofit in 2018. She has a passion for Pilates on a personal and professional level.
What people have said about Caitlin...
Magic Hands Caitlin! I cannot thank Caitlin enough for helping me with my severe carpal tunnel and tendonitis. When I started attending physio sessions with Caitlin I had very shaky hands with little cognitive ability and after 4 months I was discharged with full cognitive ability. Often, after a painful week, a session with Caitlin's "magic hands" alleviated my pain so that I could enjoy my weekend. Caitlin is not only an exceptional physio but she is one of the kindest people I have ever met so I could not recommend her enough. Thank you Caitlin
Just a bit of positive feedback I would like to share ! Have done zoom Pilates with Caitlin the last two weeks - and she is fab ! Love how she checks everyone with a doing ok and gives encouraging feedback to us all. She's a great zoom instructor. :)