Paul Millington
MSc BSc(Hons) MCSP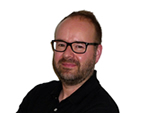 Paul offers
Physiotherapy
Sports Massage
Paul specialises in
Physiotherapist
Paul qualified as a Physiotherapist in 2008 and achieved an MSc (with distinction) in Musculoskeletal Physiotherapy in 2018, both from the University of Bradford.
Paul has extensive experience in the field of musculoskeletal physiotherapy with particular interest in conditions affecting the hip, knee and ankle where he previously worked as a clinical lead physiotherapist.
Paul currently works as a Lecturer in Physiotherapy at the University of Bradford where teaches across the BSc (Hons) Physiotherapy and MPhysiotherapy (Sport & Exercise Medicine) programmes. Along with his teaching role Paul is also involved in research primarily in the musculoskeletal field.
Paul is also a qualified Pilates Instructor.