Janet Betts
BSc (Hons) MCSP PGCert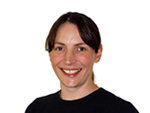 Janet offers
Physiotherapy
Pilates
1:1 Pilates
Janet specialises in
Spinal pain
Pelvic Girdle Pain
Senior Physiotherapist and Pilates Instructor
Janet qualified in 1997 and has over 16 years experience working as a physiotherapist within the NHS. She has gained extensive experience working as a senior clinician within the Leeds Primary Care Musculoskeletal Service, particularly, in the physiotherapy management of spinal, shoulder and knee problems. She has completed a postgraduate certificate in musculoskeletal physiotherapy through Bradford University. Janet specialises in working with patients in the management of longstanding musculoskeletal problems. She has a particular interest in helping patients to manage chronic pain and has postgraduate training in this area.
Janet has 10 years personal experience of Pilates. She trained through the APPI and teaches small and large groups at all levels. She also enjoys working one to one with patients with more complex needs to improve body awareness, function and to help them manage long term pain.
What people have said about Janet...
Dear Janet, thank you so much for the last year or so of classes. As a reluctant newcomer to Pilates I don't think I could have had a better introduction. Your thoughtful and knowledgeable approach has given me the understanding that not only can exercise indeed be for me in whatever advanced state of decrepitude I seem to find myself, but also that its enjoyable! You've encouraged me to think much more confidently and positively about things which I assure you is some achievement! - J.C. Feb 2019