Janet Betts
BSc (Hons) MCSP PGCert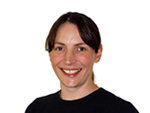 Janet offers
Physiotherapy
New Mum MOT
Pilates
1:1 Pilates
Janet specialises in
Persistent pain management and resolution
Pelvic Girdle Pain
Senior Physiotherapist and Pilates Instructor
Janet qualified in 1997 and gained extensive experience working for 16 years within the NHS becoming a senior clinician within the NHS Leeds Primary Care Musculoskeletal Service. She completed a Postgraduate Certificate in Musculoskeletal Physiotherapy through Bradford University in 2005.
Janet joined the Physiofit Team in 2013 and specialises in working with patients who have persistent pain. She is a member of the Physiotherapy Pain Association (PPA) and has completed several courses in this field including motivational interviewing and Acceptance and Commitment Therapy (ACT). In her practice, Janet aims to meet clients where ever they are in their pain journey and offers a supportive space where patients can understand and explore their unique experience. Treatment aims to help each patient move forward in a way that focuses on their individual needs and values.
Janet had 10 years personal experience of Pilates before training through the APPI in 2013 and teaches small and large group classes as well as one to one.
What people have said about Janet...
To Janet, I just wanted to say the biggest thank you for all your help with my SPD treatment in the run up to the arrival of my baby. I was in so much pain and worried I wouldn't be able to do anything in those final 6 weeks but you were amazing and thanks to you I was able to clean the most ridiculous things as nesting kicked in. I cannot thank you enough! J.J.
Dear Janet, thank you so much for the last year or so of classes. As a reluctant newcomer to Pilates I don't think I could have had a better introduction. Your thoughtful and knowledgeable approach has given me the understanding that not only can exercise indeed be for me in whatever advanced state of decrepitude I seem to find myself, but also that its enjoyable! You've encouraged me to think much more confidently and positively about things which I assure you is some achievement! - J.C. Feb 2019. Attended Pilates and persistent pain class.